There's nothing quite like the stunning Mount Rainier National Park- it is regarded as one of the most stunning national parks in the whole world. But somehow whenever you plan your trip, there is always something you miss out on- maybe you got the blooming season for wildflowers wrong, or forgot your raincoat because you didn't account for the rainy weather. No trip is perfect, but one can always hope (and in this case, prepare).
What's The Ideal Time To Visit?
Even though there's no wrong time to visit Mount Rainier, most people prefer visiting during summer and fall. This is perhaps because of the ideal weather, snow-free trails, and the fact that the wildflowers usually bloom around then (depending on the season, however). Anytime between July and October would seem ideal, typically.
Even so, keep in mind that this world-known national park gets busy during the weekends. If you're looking for some peace, your best shot would be to arrive midweek and steer clear of busy holidays like the 4th of July!
How Long Should I Stick Around For?
Even though a very subjective question, from a first-time tourist perspective, the ideal time to visit Mount Rainier would be anywhere between 2-4 days. This is just the right amount of time to bag down all the major highlights while visiting some of the more closed-off areas. However, Mt Rainier tours last anywhere between 1-5 days.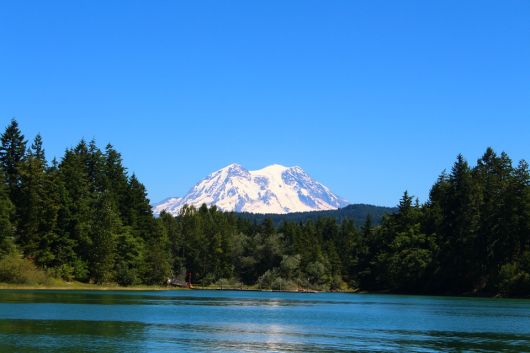 Where Should I Stay?
If you are planning your Mount Rainier tour from scratch, don't fret about finding a place to stay. There are multiple lodging options available inside and outside of Mount Rainier. If you wish to stay inside the park, the National Park Inn and the Paradise Inn would be recommended. There are also some campgrounds and overnight backcountry camping spots sprinkled through the park, so really, you're good!
What Are the Must-See Attractions Here?
A Mount Rainier tour, without doubt, has multiple sights to offer. How do you know what not to miss? Here is a list of things you must look out for:
• While making your way towards Mount Rainier, look out for the beautiful and serene Christine Falls (close to the southwest entrance), which offers stunning sights and great photograph opportunities.
• The Reflection Lakes is simply serene, and the mountain views it offers is undisputed. Catch the reflection of Mount Rainier on the calm waters of the lake and don't forget to snap away!
• Step into the wildflower meadows for some exceptional views.
• For some great mountain vistas, drive through Paradise, all the way to Sunrise. This path offers a scenic view that shouldn't be missed.
What Are the Hike Trails I Shouldn't Miss?
Ah, after all, everyone goes to Mount Rainier expecting a hike, even if a short one. There is just something about walking through the natural beauty of it all that makes you forget about the workout. Here are some of the hiking trails that are most commonly enjoyed by the general public, but should you feel like you'd like more of a challenge, note that there are harder trekking trails:
• The Fremont Lookout:
This is perhaps the hiking trail most people take to view unmatched views of Mount Rainier and the Olympic Mountains in the backdrop. With a 900-feet elevation, you're sure to feel like you've accomplished something.
• Skyline Loop:
Showing off a closer view of Mount Rainier than the Fremont, and a glance of the Nisqually Glacier, this path is much higher but worth the result! A 1700-feet elevation gain is no joke, after all.
• Comet Falls:
Presenting a view that shows off a bit of forest trail, colored patches of wildflowers, and a close-up view of the mighty Comet Falls, this trekking trail is a path worth taking. At an elevation of 320-feet, you won't feel too giddy!
• Naches Peak Loop:
Uniquely boasting the capacious Mount Rainier with a splash of color from the wildflower meadows and huckleberries, this trekking trail adds a touch of dramatic flair to your pictures. At an elevation of 500-feet, you don't have to worry about struggling on your trek either.
Even though you now know a little more about an ideal Mount Rainier tour than you did before, ensure that you plan an itinerary based on your liking and capabilities. Above all, remember to take in the beautiful and unmatched views Mount Rainier has to offer.